High-Quality Mineral Insulated Cable Assemblies
When it comes to your critical power, control, instrumentation, and thermocouple applications, you need a solution you can trust. That's where our mineral insulated cable assemblies come in. Our dedicated production facility ensures that every cable assembly is manufactured with the utmost dependability and quality control.
MICC's cable assemblies are a complete wiring system that saves space, installation time, and labor costs compared to traditional wiring methods. Plus, with adequate stock and the ability to ship most orders within two days of receipt, you can count on us to meet your needs quickly. And with a one-year warranty on all parts and labor with the return of the product, you can trust that our cable assemblies will provide the reliability you need.
MICC Part Numbering System
The unique part numbering system makes ordering and reordering easy and ensures accuracy. The following example illustrates the makeup of the part numbering system, and the quotation request allows the makeup of individual cable assembly numbers.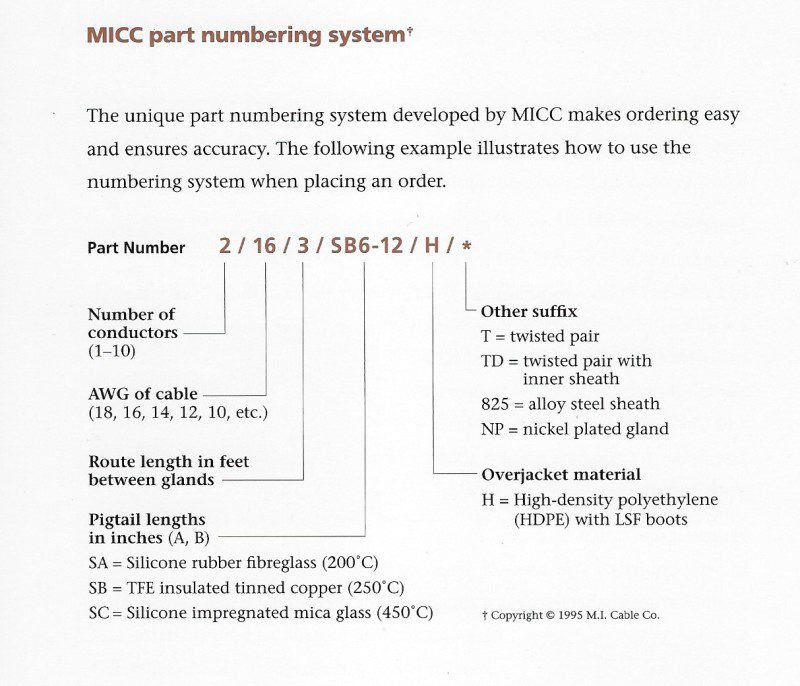 Assembly Types
When it comes to hazardous locations, safety is paramount. That's why our mineral insulated cable assembly is designed to meet the strict requirements of Class I, Divisions 1 and 2, Groups B, C, and D, as well as Class II, Divisions 1 and 2, Groups E, F, and G.
Our cable assemblies come in three types: MICC1, MICC2, and MICC3, all of which are UL certified with E160560. We adhere to the safety standards of UL 2225 and CAN/CSA C22.2 No. 174 for cables and cable glands used in hazardous locations.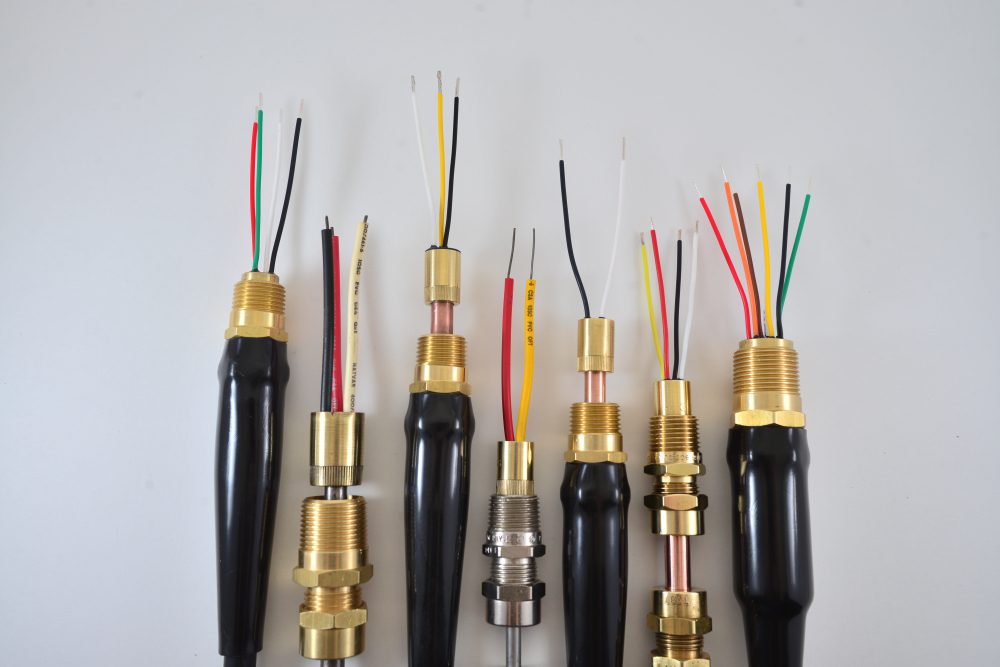 MICC offers cable assemblies in three basic types:
Power
Our multi-conductor power cable is approved by NEC, Article 501-5(f), UL listed and tagged. It is specifically designed for emergency block valves (EBVs) and motor-operated valves (MOVs), fire pumps, emergency generators, and other electrical equipment that must meet a two-hour fire-related code. The cable is constructed to provide severe fire protection and is also available with an Alloy 825 outer jacket and solid nickel conductors.
Control
Our multi-conductor cables are designed for use in hazardous locations that require a gas or liquid block seal. They are perfect for arcing devices and instruments and are flexible with a drip loop. Our MI cable assemblies are ideal for use in gas analyzer panels, petroleum gas pumping units, air conditioning units, and many other OEM applications where space is limited.
We also offer polyolefin jacketed shielded twisted pair cables for digital and milliamp signals, which are perfect for use in corrosive atmospheres. Additionally, we offer Alloy 825 cables for use in hydrogen and sulfuric areas.
Thermocouple
Our Type J, K, and T extension cables are the perfect solution for connecting your thermocouple to the conduit system. These cables are available in customized lengths of 6mm diameter and feature solid pigtails only. The color code of the insulation material is in accordance with the ANSI/MC96.1-1982 standard.
Quality Assurance
Our cable assemblies undergo rigorous testing to ensure they meet the highest quality standards. We test for insulation resistance, continuity, color coding, and conformity to customer specifications. Our completed assemblies have a minimum of 100 Megaohms resistance between conductors and between conductors and sheath.
Please keep in mind that test reports are furnished upon request.